I will fly like a bird in Chicago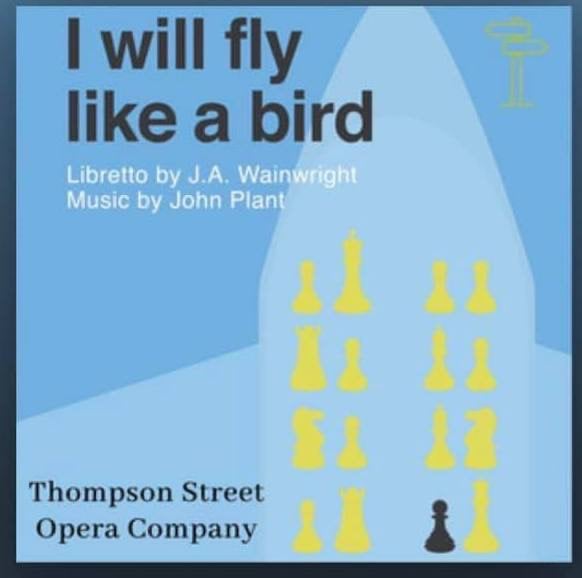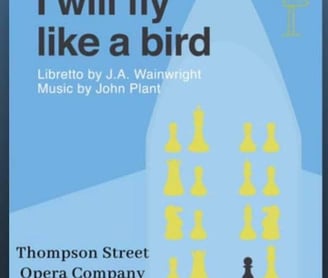 An adventurous and resourceful company called Thompson Street Opera opened their new season with four performances of 'I will fly like a bird', the opera I composed in collaboration with J. A. Wainwright. We were able to take a train (the 'L') straight from the airport; the company's treasurer, whose guests we were, picked us up and drove us directly to the theatre, where the final technical rehearsal was in progress. From the moment we stepped into the magnificently resonant black box of the Athenaeum Theatre's Studio 3, it was clear that our work was in dedicated, professional hands; and that these hands were working in intense symbiosis. This impression was thrillingly fortified through the dress rehearsals and filming sessions which preceded the premiere.
The opera was given with two casts, each giving two performances. The singers, Nathaniel Hill and Jonathan Wilson as Robert, Jennifer Barrett and Marissa Simmons as the Mother, were not only splendid singers whose voices would grace any stage in the world, but deeply committed and skilled actors. They were also brilliantly paired, yet one more instance of the symbiosis which was the week's hallmark. Conductor Alexandra Enyart and stage director Ross Kyo Matsuda showed profound insight into the work, and reinforced each other's interpretations: what a joy to have a director whose musical instincts are so profound, and a conductor whose grasp of the work's dramatic pulse is so unerring!
The instrumental ensemble, led by newly appointed concertmaster Robert Alvarado Switala, was superb. I had imagined the orchestra as full participants in the drama, and so it proved. I must name and thank each one of them: in addition to Robert, second violin Angelica D'Costa, viola Kelsey Hanson, cellist John Rogler, clarinettist Lilia Olsen, and pianist Cody Michael Bradley. I saw all the performances but one, and all the dress rehearsals and film sessons, so that I had the full experience of my opera seven times. The freshness and power of this company's interpretation was powerfully sustained throughout the week. So too was the sense of tragedy: the opera has, alas, lost none of its relevance since the events of 2007 on which it is based.
The company's artistic director Claire DiVizio is clearly a person of immense vision and commitment - and not only because her company staged my opera! In fact, Thompson Street Opera is committed to performing only works by living composers, thus, in Claire's words, 'showing the potential of the art form through the diverse voices of our time.' It is a great honour to be one of those voices.
The production received two strongly favourable reviews, from Chicago Classical Review and Chicago Theatre Review. Links below:
https://chicagoclassicalreview.com/2019/09/thompson-street-opera-opens-season-with-compelling-premiere-of-canadian-tasing-tragedy/?fbclid=IwAR1SsRX21nIrGm9tgv1SLZcPhrI20YQ--DryPHTwkZDbLn1tyikVvc2IytM
https://www.chicagotheatrereview.com/2019/09/lullaby-as-lament/#disqus_thread